Welcome to Auburn Township Geauga County, Ohio
Auburn Township is a semi-rural community located in the southwest corner of Geauga County. We embrace true country style living but offer the perfect balance of residential, commercial, and industrial growth.
The township is about 5 miles square and houses approximately 6,443 residents and is part of the Kenston School system. According to the 2010 census, Auburn Township has the highest rate of growth of all 16 Geauga County townships. Welcome to Auburn Township!
(Click below items for more details)
Auburn Township Board of Trustees are actively seeking NEW INTERNET/CABLE PROVIDERS to
service Auburn Township residents.
 Thank you to all residents that participated in the internet survey.  Results for the survey can be viewed at the link below.
ZONING COMMISSION
Notice of Public Hearing
RE:  Zoning Amendment AUB-2020-01
7:00 PM, Thurs., Oct. 22, 2020 at Adam Hall
Playground at Auburn Community Park  is now OPEN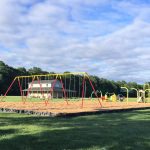 TUESDAY, NOVEMBER 3rd @ Adam Hall, 11445 Washington St.
Early voting, absentee ballot, issues, times, etc.:
TRICK OR TREAT
Sat., Oct. 31st – 6:00pm to 8:00pm
The Auburn Board of Trustees leave the decision to participate in trick-or-treat activities to each individual household and recommend everyone follow current state public health orders and rules/ regulations.
TRUSTEE MEETINGS
The Auburn Township Board of Trustees meet on the 1st and 3rd Monday of every month at 7:30 pm at the Auburn Administration building, 11010 Washington Street.
To be added to the agenda, please call 440-543-7028.
Now accepting letters of interest to serve on the 2021 Auburn Zoning Commission & 2021 Board of 2021 Zoning Appeals
Auburn-Township-Openings-2021.pdf
admin@auburntownship.com
In order to meet COVID-19 social distancing orders, the Auburn Township BZA and Zoning Commission meetings will be held at Adam Hall Community Center, 11010 Washington Street.